NSP E+ Longboard
The NSP E+ Longboard is great for customers seeking a longer-lasting board, perfect for families, beach pavilions, rental venues and surf schools. One of the most popular rental boards in the world, as it will outlive conventionally built boards with ease due to its bulletproof construction (there's actual ASA sheets used, the same stuff they use for ballistic vests).
---
ECOBOARD CERTIFIED
This board is recognized by the Sustainable Surf Foundation as a Level One Eco Board; "An ECOBOARD is a high-performance sustainable board. It has the same technical performance attributes as any modern watersport board, while having reduced environmental and toxic impacts."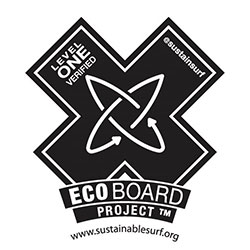 Rail: Full
Bottom: Single to double concave
Ideal waves: 1-6ft
Level:  Beginner – Expert
Because of their size, great floatation and glide, Longboards make tiny 1-2 feet days much more fun and make great boards for all-year-round conditions.
FIN SETUP
All E+ Longboards come with fins. The 8'0″, 8'6″, 9'0″ and 9'6″ are supplied with an 8″ black nylon center fin and two M3 sidebites. The 10'0″ and 11'0″ come with a single surf 10 center fin box only, along with the 9″ black nylon center fin.
The NSP E+ Longboard is considerably more sturdy than other NSP constructions, ready to take the abuse from bigger waves, countless rides, bumpy transport and the occasional drop. Riders looking for a resilient longboard to improve their skills on are well-served with an E+ Longboard as well:
– The best selling longboard range in the world is refreshed with a new graphic called "The Wave".
– The best in versatile longboard performance, using technically advanced construction at extremely attractive retail prices.
– Great longboard. Ideal for swooping bottom turns, high trim lines and drop knee cutbacks.
– New sharper rails in the tail, modern performance rocker combined with mellow V bottom blended with a subtle double concave.
–  Shape updates make the E+ Longboard an easy board to trim on the wave and dynamic when riding off the tail.
E+ CONSTRUCTION
This construction is an evolution of NSP's E2. a classic molding technology. Even though this construction went out of production several years ago, these boards can still be found in rental centers all over the world. The ability to put up with daily abuse from the elements, UV-radiation and hard commercial use is a testament to the resilience of this construction. Riders looking for a board that can take an impact where other boards would get dinged are well-served with an E+.
We also stock NSP longboards in Elements, Protech and P2  Construction.
Included Accessories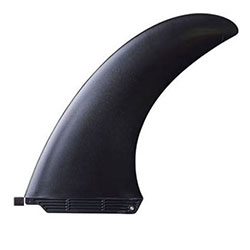 Eco friendly