Channel Islands Rocket 9 LTD Dual-Core
The Rocket 9 is built for mostly average waves. It works great in beach breaks and can be skatey when you want to generate that speed. This board's outline has a wide point forward and the tail is pulled in making it super snappy and maneuverable.
Dane Gudauskas:
"The Rocket 9 Fusion Dual-Core is suited to your average waves like we find around California. It works great in beach breaks because it can be skatey when you want to generate speed, but then you step back on the tail and can absolutely hammer some vert wall. We also think that with the shorter nature, it fits really well in the tighter transitions of beach breaks. The optimal range for this board would be 2 to 6 ft beach breaks."
Construction:
Fusion Dual-Core utilizes the lightest and strongest EPS core on the market to create a lively and buoyant center, while the PU foam inserts on the rails combined with the pop-flex stingers give you and natural feel and response.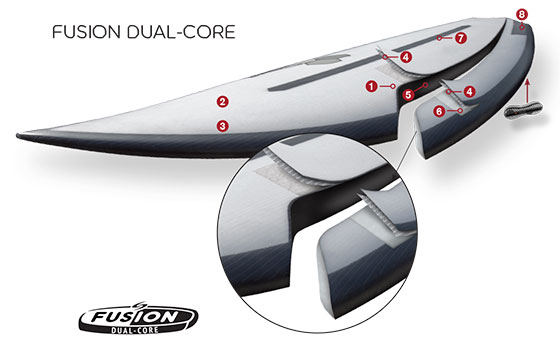 Fins:
Regular FCS II boxes have a recessed leading edge which gives a flush base connection. Consequently, these improve water flow. FCS II plugs give a solid connection between fin and surfboard. Equally there is a seamless transition between the fin and board surface.