NSP Elements Fish
The NSP Elements Fish is strong, stable and wide, with a flattened-rocker. The perfect board for ripping in all conditions.
Wide nose pumps volume under riders chest adding flotation for paddling power, stability and easy entry into the smallest waves with quick acceleration.
Rocker and rail outline combine with single to double concave bottom, vee through the tail into a wide swallowtail.
Slight hip behind the front fins reduces the area under the back foot creating a pivot point for snappy turns. Boxy and full rails also add to the overall volume and forgiving nature of the NSP Elements Fish.
Fish performance delivers traction, down the line speed and maximum drive over the flattest of sections.
The five-fin box system offers the option of stock tri-fin or optional quad-fin set up to optimize the fin cluster for your style or for the surf conditions. On smaller days, go quad, and keep the thruster setup for the bigger days when conditions allow for slicing.
The NSP Protech Fish, that we also stock, features the exact same shape but comes with a thruster setup only.
Review Quote:
"The board really came into its own flying across the little inside double-ups, where it pivoted smoothly off the tail and was more than happy to climb up onto any white water end-sections you pointed it at. "
Wavelength Magazine 21st of May 2020
---
SIZE CHART
| Length | Width | Thickness | Volume | Weight |
| --- | --- | --- | --- | --- |
| 5'6″ | 19″ ³/⁴ | 2″ ¹/⁸ | 28.1 L | 3.35 Kg |
| 6'0″ | 20″ ¹/² | 2″ ³/⁸ | 35.1 L | 3.79 Kg |
| 6'4″ | 21″ | 2″ ¹/² | 40.2 L | 4.00 Kg |
| 6'8″ | 21″ ¹/² | 2″ ¹/² | 43.7 L | 4.22 Kg |
| 7'2″ | 22″ | 2″ ⁵/⁸ | 51.3 L | 4.65 Kg |
Included Accessories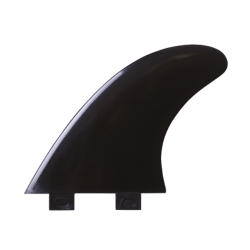 Eco friendly