NSP Elements Funboard
The NSP Elements Funboard is a design for the weekend warrior. Generally speaking, an ideal funboard shape:
– Paddles easily
– Catches waves early
– Gets you on more waves than smaller boards
What makes the NSP funboard special is its construction. Elements construction by NSP has been tried and tested, and represents fantastic value, durability and performance. For riders looking to progress their skill, the Elements Funboard is one of the most popular shapes in their line-up.
The Elements construction is an evolution of the previous builds, where the initial emphasis was placed on durability. Gradually, these boards become more and more performance-oriented, while maintaining that durability that made these boards so popular with rental shops and schools.
About the shape
– Semi-rounded nose with low entry rocker adds more volume upfront to give more paddle power.
– Dome deck profile allows for a forgiving but sensitive rail feel, while the round pintail adds control in bottom turns and cutbacks.
– Concave bottom creates a fast water transition through to the tail – providing balance and control in a range of conditions.
– Available in three sizes.
Five fin box system
Unlike the Protech Funboard by NSP, the Elements comes with a 5-box fin cluster, allowing you to go thruster or quad depending on conditions. The board comes out of the box with an M7 3-fin set, making this a ready-to-surf product right out of the box:
---
SIZE CHART
| Length | Width | Thickness | Volume | Weight |
| --- | --- | --- | --- | --- |
| 6'8″ | 21 | 2 ⁵/⁸ | 42.1 L | 4.25 Kg |
| 7'2″ | 21 ¹/² | 2 ³/⁴ | 49 L | 4.68 Kg |
| 7'6″ | 21 ³/⁴ | 2 ⁷/⁸ | 54.4 L | 4.81 Kg |
Included Accessories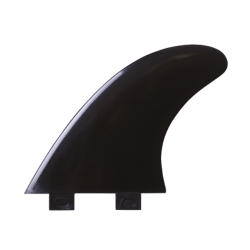 Eco friendly