NSP Soft Cruise
The NSP Soft Cruise features their most popular shape in the SUP segment. Proven to be stable and easy to paddle over longer distances (hence the name "Cruise"), the soft EVA cover adds another dimension in terms of comfort and safety. So whether you accidentally drop the board on concrete, or you are out paddling and lose your balance; the chances of hurting yourself or damaging your board are minimized by the soft EVA covering the entire upper side of the board.
The NSP Soft Cruise is suitable for riders of all sizes and skill levels, the design features a wider nose and rounded square tail creating a stable platform with generous volume and easy turning.
A shape with double concave on the bottom delivers a type of glide that makes this a stable and fun board on flatwater, but also in smaller waves.
The Soft Cruise is also available in alternative constructions like CocoFlax (NSP's most eco-friendly board), CocoMat (also a great choice for the environmentally conscious), E+ (Full EVA cover) and Elements (Perfect for rental centers).
Features of the NSP Soft Cruise
Carry handles on both the nose and tail make the Cruise easier to handle and a balanced  centre handle allow you to carry the board to the water while you carry your paddle with the other hand.
Rubber nose and tail
Another safety feature are the rubber nose and tail, protecting your board from dings or cracks.
Guide graphics
Centre graphics embedded in the standing area, make sure even first-time paddlers are going to find the right position on their NSP Soft Cruise immediately.
Nylon wave fin
An 8″ nylon dolphin fin tracks well and will also work in shore breaks.
Included Accessories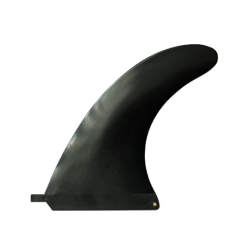 Eco friendly