NSP PU Sleep Walker
The Sleep Walker Longboard, shaped by Tully St. John is an awesome allround longboard. This shape has been road-tested and scrutinized by the world's best longboarders all the way through to everyday surfers and by those just starting out to create a formula that works for everyone. Add in cutting-edge Shapers Union technology and you have one of the best longboards on the market.
The Sleep Walker is set up for traditional log style surfing with a single fin allowing for long hang tens and paddles into waves very easily.
In addition, the Sleep Walker delivers allround flow and turnability. This is a great addition to anyone's quiver, it's a great, easy-to-surf, allround board.
---
For a more ding-resistant construction and lighter feel, check out the Elements version of the Sleep Walker, or scroll below for more longboard alternatives.
---
NSP PU Sleep Walker Size Chart
| Length | Width | Thickness | Volume | Weight |
| --- | --- | --- | --- | --- |
| 9'4″ | 23 ¹/⁴" | 3″ | 78.1 L | 7.38kg |
| 9'6″ | 23 ¹/²" | 3 ¹/⁸" | 83.7 L | 7.79kg |
| 9'8″ | 23 ³/⁴" | 3 ¹/⁸" | 85.8 L | 7.91kg |
| 10'0″ | 24″ | 3″ | 93.4 L | 8.66kg |
---
Rail: 50/50 forgiving
Bottom: Single concave with slight chine, to rolled V
Ideal waves: 1-6ft
Level: Beginner to World Champ
Slight chine rail at the nose
---
Features
Deep entry concave
Forgiving rails make it easy to nose ride, turn, and not catch
Good thickness through midsection to easily paddle into waves
Large nose area for hanging ten
Medium rocker line so the board doesn't nose dive and allows for great maneuverability
---
Fins:
All Sleep Walker boards are set up with a Surf 10 center fin box
---
NSP PU Sleep Walker Construction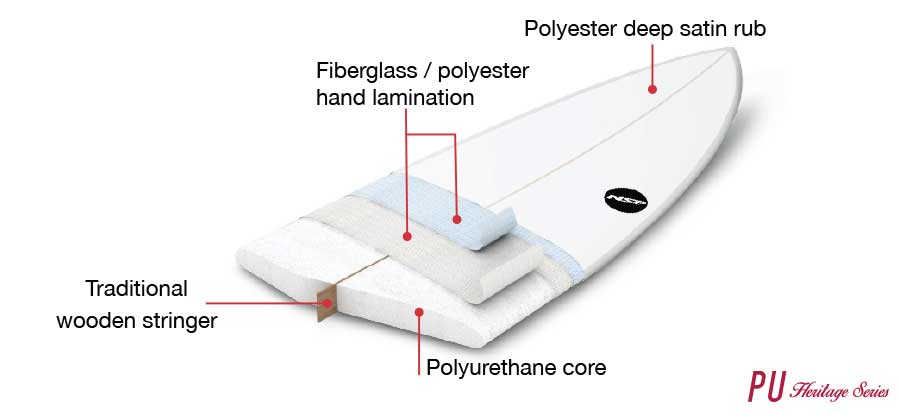 A classy handmade board using heritage construction techniques with modern deep gloss color tints or a clear coat for a pristine white core and single stringer.
– Traditional custom-shaped polyurethane (PU) core combined with the wood stringer.
– Proven design by master shaper Tully St. John
– Highest quality materials finished with a super deep gloss for a custom board finish.