NSP SONIC PRO CARBON
The NSP 2018 Sonic Pro Carbon boards are proven race winning designs.
Dedicated downwind and course racing designs. All Sonics are pintails to release water from the tail reducing wake. The recess deck lower the rider's center of gravity, allowing reduced width and drag. Sonics are very strong performers in upwind and downwind conditions. The bulbous nose allows you to pop over chop, to carry speed upwind and catch bumps downwind.
NSP's Accelerator Vacuum System (AVS) quickly removes any wash that enters the dugout.
The Sonic is the dedicated race board for choppier water, open ocean conditions and downwinders. NSP has evolved our signature design to include a stabilizer surface to deliver greater speed and control.
Features
14/23 is extremely competitive and designed for elite racers or lighter experts to win races in smoother open water conditions and flat water.
14/24 can handle choppier conditions, having a different rocker line than the 14/23, it is extremely competitive for elite and experts as soon as there is water texture to pull away from the pack. Read the SUPmag review here.
14/25.5 is the same concept as the 14/24 but more stable and comfortable for advanced and expert racers in open ocean conditions, harbor chop and for downwinders. If you are not in front of the pack in an elite field and you are battling in crowded racing conditions, you will be faster on the 14/25.5 than the 14/24.
Included Accessories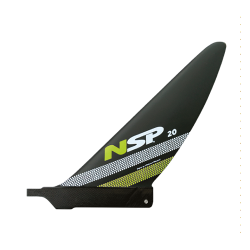 Eco friendly