nuu Socialight
nūu's Socialight surfboard is an easy-on-the-eye stretched egg outline.
Created by Marcie O'Neill, nūu boards are boutique surfboards with a satin rub finish, vintage-style elements, containing key contemporary shape elements. The Whistlepunk is a classic log, while the Facepalm is the fish/twinnie of the range.
---
OUTLINE:
Egg outline pulled into area pin for control in juice and full rail turns. Mid-widepoint gives the Socialight a big "sweetspot" which means you can surf this board from forward or back with equal control.
ROCKER:
Flat entry rocker for getting in early and speed in forward trim, easing into a smooth performance tail rocker.
CONTOURS AND RAIL:
Low-performance rail compliments the fine foil of this board with no sacrifice of trim speed due to wide planning area. Mellow V  throughout increasing slightly in front of fin and out through tail to make rail to rail transitions silky smooth and shed water through arcs.
PERFORMANCE:
Genuine all-rounder. experimentation with fins and position to suit conditions will give the Socialight unlimited potential.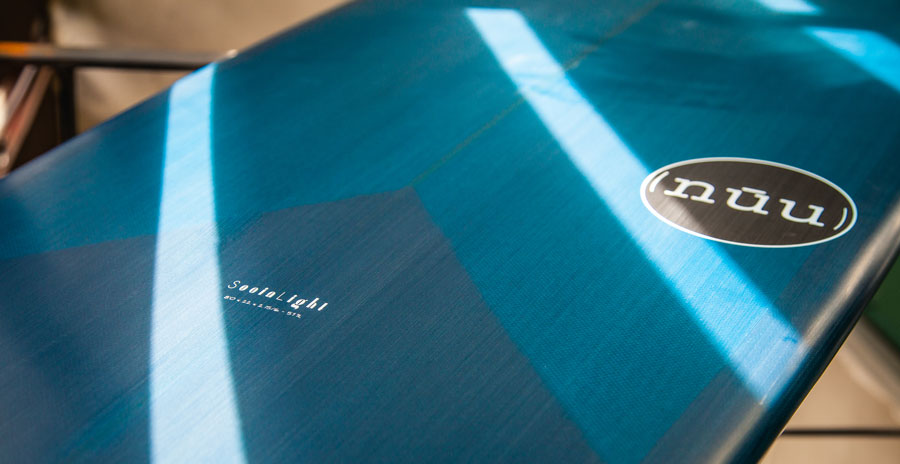 AVAILABLE IN:
7'6" x 22 ³/⁴" x 2¹¹/¹⁶" – 48.1 L
8'0" x 22" x 2 ¹⁵/¹⁶ – 57.7 L
Core: EPS 36 g.
Layup Deck: 6 oz. + 4 oz. / 4 oz. Patch
Layup Bottom: 6 oz. + 4 oz. Finpatch
Stringer: 6 mm.