Surftech Pantera Dual-Core
THE MUSCLE CAR OF SURFBOARDS.
Surftech's Pantera, a Dane Hantz shape, is a board that generates serious speed with its low-forward rocker.
The Pantera features a unique low-forward rocker, neutral balance volume due to the EPS/PU, Pop-Flex Stringers creating effortless paddle and generating speed like no other. The Pantera provides a solid platform for driving off the tail while giving snaps and gouges a powerful feel.
What "The Surfboard Guide" Says:
It's got a fair amount of carbon, feels on the thinner side and an unconventional rail shape. More on that in the review by the guys from "The Surfboard Guide" (simply click the picture below):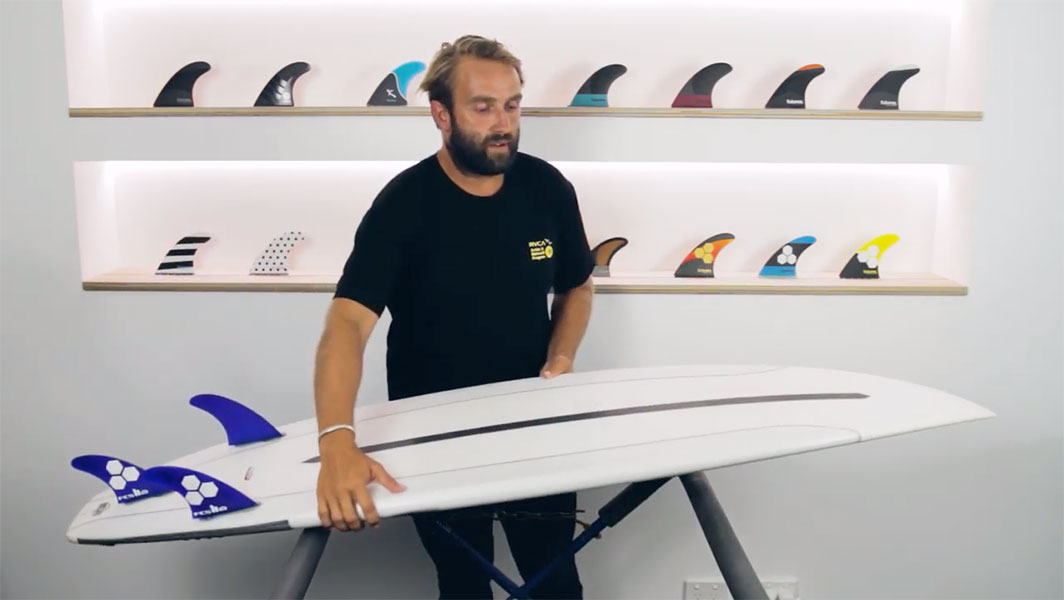 "Dane Hantz from Vulcan is a dichotomy. Creative and regimented. Thick-skinned and sensitive. His board designs are whimsical in concept and yet precisely engineered. His old-school work ethic and stringent business practices have developed a core following of customers, while his embrace of technology, social influencers (i.e. @boardporn) and photography has exposed his designs to a worldwide audience."
Mixcloud.com
What Surftech says:
"It's hard not to like the performance of a hipped squash, they just work.  Match that with our unique low-forward rocker + neutral balance volume and you have a thruster that's not just absurdly predictable but paddles and generates speed at will.  A generous block gives the Pantera a solid platform for driving off the tail while giving snaps and gouges a powerful feel. Recommended as a thruster ONLY."
What Coastalwatch says:
"Surftech have been the leaders in Epoxy boards for a long time. This board includes EPS foam through the middle with normal PU rails, a combination of two blanks. EPS foam in the middle of the board means better paddle power and more lively movements. This board is a powerful, high-performance summer board."
Main features:
Tri-fin setup
Squash tail
Dual-Core